Workshops
A Variety of Workshops!
Going online for 2021
I'm adapting to the changes in the way me meet, work and learn by continuing to offering some of my workshops live online via zoom.
Please check out the list of workshops offered online on my virtual workshop page.
Workshops with Fabric and Stitch: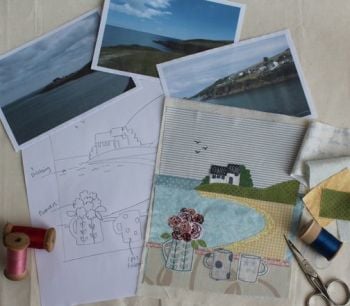 Textile Illustrations: 1 day workshop
Turn a favourite view, landscape, seascape or harbour scene into a fabric picture.
Working on a small scale you will learn how to simplify and translate your own photographs or sketched image into a piece of textile art. The ideal project for using up scraps of fabric that you have been hoarding! We will add the details and 'drawn' parts of our pictures by machine or hand stitching. End the day by mounting your piece of work.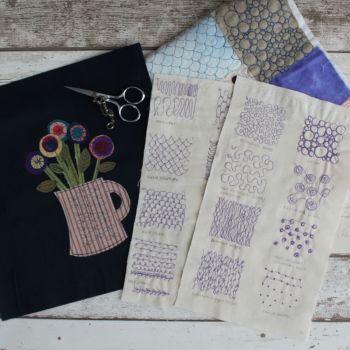 Free Machine Embroidery: 1 day workshop
A beginners' workshop on free motion embroidery.
Using their own sewing machines students will learn the basics of free machine embroidery.
The day is packed full of lots of exciting exercises as we explore the use of the machine as a drawing tool. The day is devised so that the student becomes confident with dropping the feed-dogs and sewing in this popular way. Using simple appliqué shapes as a base for free machining, students will discover the wide range of applications of this technique including various craft projects, quilt making and wall hangings.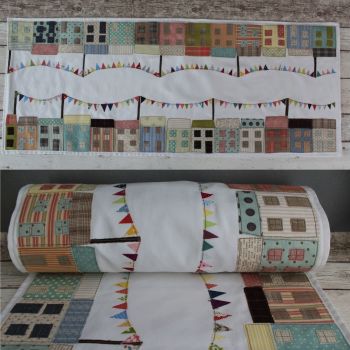 Appliqué Table Runner: 2 day workshop
Make a delightful and unique centre piece for your dining room, kitchen, coffee, or even your picnic table, at times of celebration or to just cheer up the everyday. Decorate using appliqué rows of quaint Cornish cottages and cheerful bunting, this coastal inspired cotton runner embellished with fine stripe fabrics, spots and checks will bring a breezy look to your table or sideboard.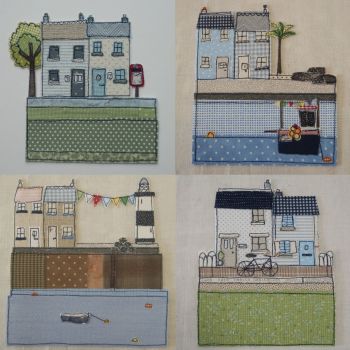 Cornish Cottages: 2 day workshop
Design, make and frame a contemporary piece of textile artwork in a weekend. Inspired by the charming and quaint cottages of the fishing village and luscious countryside of Cornwall Cat will guide you through the process, stitching, mounting and framing your own Cornish Cottage artwork. Using the techniques of free machine embroidery you will add details and extra textural interest to your fabric base whilst personalising it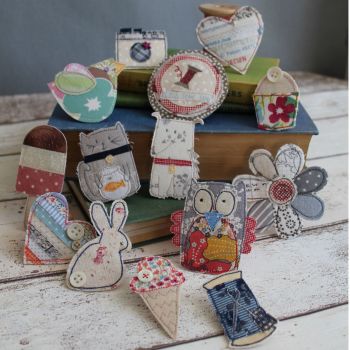 Cheerful Appliqué Brooches: (Hand or Machine stitch) 1 day workshop
Spend a day making a selection of cheerful and colourful brooches. We will be making a variety of objects including flowers, animals, birds, hearts and perhaps an ice lolly or two! Adorn a favourite cardigan or give as a delightful gift. Pattern included with class.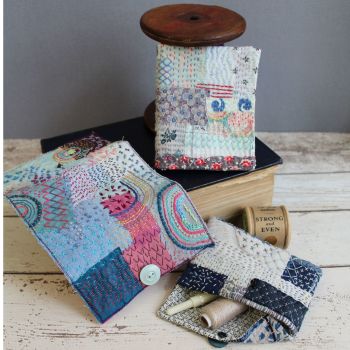 Slow Stitching: an exploration of mark making by hand: 1 day workshop
Try a slow stitch approach to sewing as a more mindful and more environmental method of using what you already have. Be inspired by the simple yet beautiful stitching techniques & ethos of Indian Kantha, Japanese Boro, quilting, visible mending & simple embroidery stitches. Through these traditional skills we will explore mark making techniques, composition and consider colour palettes. Make a small purse, needle case or simple tool wrap for your sewing items.
Keep safe fabric books: (hand sewing) 1 day workshop
Combining new and old fabrics these soft tactile books are more than likely to become heirlooms in their own right holding the special treasures you've collected over the years. Made predominantly by hand I use them as places to keep my precious vintage snippets safe, little bits & bobs in progress and for collections of personal stitcheries that I've made inspired by my journals.
Christmas Themed Workshops: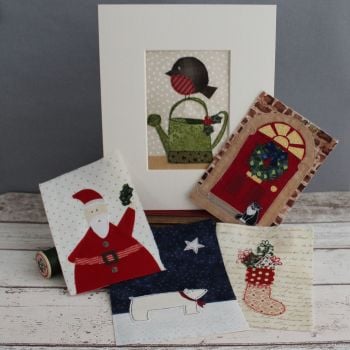 Christmas Textile Illustration: 1 day workshop
Make a charming Christmas fabric illustration as a gift or to decorate your home with at Christmas.
Working on a small scale we will make a Christmas inspired piece of textile art. This is the ideal project for using up those scraps of Christmas fabric! We will add the details and 'drawn' parts of our pictures by machine or hand stitching. You can also give your piece added sparkle by embellishing your picture with sequins and metallic threads. End the day by mounting your piece of work.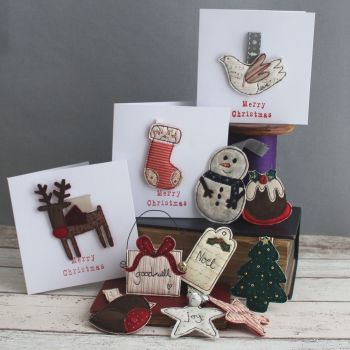 Appliqué Christmas Cards: 1 day workshop
A Christmas card workshop with a difference, make a collection of charming appliqué Christmas decorations, brooches or gift tags mounting them on a card for a truly unique gift. Hang the decorations around the house or on the Christmas tree, personalise them and use as gift tags on your presents. Or make them into brooches for those hard to buy for friends and family. A very versatile workshop!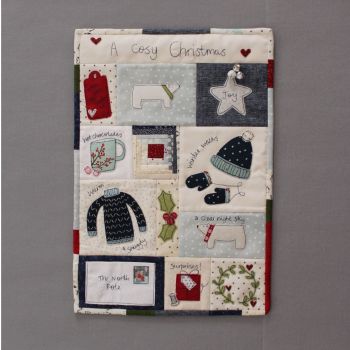 A Cosy Christmas Wall hanging: 1 day workshop
Spend a day working on this rather charming wall hanging inspired by all the things that make me feel all Hygge and thankful about the festive season each year.
Simple appliqué designs are worked on individual blocks with complimentary stitching which can be sewn by machine (free machine embroidery) or by hand. Try some traditional patchwork with a wonky log cabin block. House your letter to Father Christmas in a sweet pocket made to look like a letter. Embellish with bells and buttons as desired.
Instructions for pre cutting blocks will be given before the workshop and demonstrations in each technique used will be given during the day.
Workshops with paper: (photographs are coming soon!)
Bookbinding:
Learn how to make your own hardbound sketch and note books. Using card and handmade papers, make one or more small books. Each book can be personalised and designed for a specific use. Add beautiful end papers, stitching and closures, make these books as ­a wonderful gift for someone or something to keep for yourself!
Sketchbook and Journal Keeping for Creative Practice:
Be inspired to start and keep a day journal to support any creative and visual practices. Overcome your fear of the white page and pick up hints and tips to help use sketchbooks on a daily basis as a visual resource, travel journal or aid memoir. Bring a blank book or one that's half started, shop bought or handmade, this day is for you to explore and play with ideas.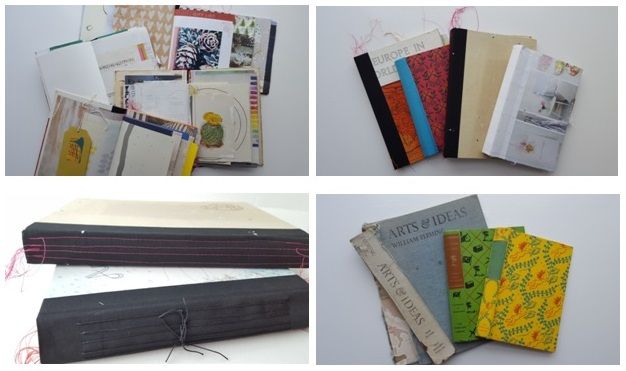 Easy-sew up-cycled sketchbook:
Whether you want to call it a junk journal, smash book, scrap book or inspiration journal this is bookbinding pure joy, straight forward and addictive, you'll want to make them for all your friends.
It's a no glue binding using only a sewing machine or hand stitched binding. Use found and recycled papers.
Give an old book a new lease of life by using its' covers to house your very own sketchbook or journal. Make a themed inspiration book using specifically chosen papers or use a variety of recycled papers for your thoughts and drawings. Perfect as a base for mixed media, as a prompt for creative writing or art journaling.
Booking Information:
All of Cat's workshops can be customized depending on your group's location, size and duration of session.
All workshops are based on a 10 – 4pm day with a break for lunch.
Please email me for 2021/22 rates.
I prefer to teach small classes, no more than 12-15 students in order to get around each student and assess their individual needs in the workshop.
The bookbinding workshop requires a fair amount of space for each student so class sizes depend on the teaching space available.
If you have any specific interests a workshop or series of classes can be tailor made to suit your group or needs. Please just ask.
Talks:
I offer an introductory talk to my work and practice. Showing images, sketchbooks and examples of my textile work. Talks are approx 45mins with time for questions.
Feel free to start a converstaion with me to how my work could suit the needs of your group.
Private Classes:
I also offer small workshops at my home studio in Redruth for up to 4 people.
Classes can be tailor made to your specific field and areas of interest be that machine or hand sewing, quilting or embroidery. Be assured of quality one to one tuition in a working artist's studio.
Check out my Studio Workshops page.
Contact:
Please email me here I look forward to hearing from you.
Cat x